Ruqqaiyah Adia wanted to gain more insight into the stresses that young black men face today in everyday life and in the workplace. She held an informal interview with a colleague, who is a young black man to help her understand more.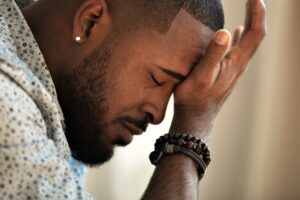 It's no secret that many men struggle with the idea of being open about their emotions or being vulnerable. Black men tend to face a unique challenge, in which their most redeemable qualities are their looks and physicality rather than intellect or emotional intelligence. These things are often viewed as too 'soft' or 'non-masculine' for a black man in society. There has definitely been a shift on this topic recently with renowned black male celebrities such as Jay Z, Kid Cudi and Kanye West opening up about their experiences with depression, mental health and therapy. Visit Chat Works on Instagram or Twitter to share your thoughts on the conversation had with my colleague. 
How has the stigma around expressing emotional vulnerability as a black man affected you?
'Growing up in a Jamaican household, we were told to always 'toughen up,' whether it was mentally or physically. Displaying emotions such as pain or anxiety was not something men did in our communities. Even topics like depression and other mental illnesses were only ever heard about from the female friends and family around me, it was almost as if the men saw mental illness as something only the females experienced because they were 'soft' or 'weaker than men.' In other words, the stigma affected a large part of my life growing up as I'm sure it did for many other young black men. Even to this day I hesitate and have second thoughts before talking about how I feel because being vulnerable and letting down my walls doesn't come naturally.'  
What kind of stress do you face in the workplace as opposed to societal pressure as a young black man?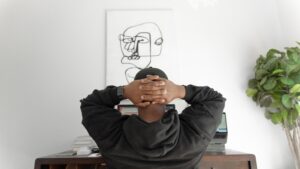 'I feel like black men, especially my age group [18-25], have it really hard with keeping up a certain image in the workplace and then keeping up an entirely different image in the community or with friends. When I'm at work I'm overthinking about the fact that I need to maintain a professional persona and for a lot of black people, this means hiding your 'blackness.' Personally, speaking and based on what I've heard from my black peers, we tend to change the nuances in the way we speak, our body language, even down to the food we eat when we want to seem intelligent and professional, especially around white folk. We hide our culture, the music we like and our lingo. The ironic part is that when we young black men are amongst our own people, the script is flipped and it's all about being tough to the point where it comes across as aggressive, almost being looked down on if you have different interests, hobbies, taste in music and fashion as what is commonly stereotyped for black men.'  
Which black celebrity would you say has inspired you? 
'Definitely Kanye West. It's been interesting to see him shift the paradigm and open up about his mental health and break the stereotypes of black men only talking about cliché things. Kanye speaking on the fact that he has bipolar disorder and seeing the backlash and people dubbing him as 'crazy' was also very interesting because you see many white celebrities opening up about their mental health and the reaction they receive is usually quite different. They're called 'brave' and 'inspirational', whereas with the example of Kanye; a black man; he was labelled 'crazy.'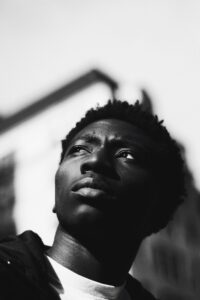 Would you like to add anything else related to this topic?
'Just an anecdote/observation. I think that one major reason black people do not want to talk about mental health- or are afraid to talk about mental health is because we've seen examples of black people around us who have sought out professional help but have always been given heavy doses of medication or have been sectioned rather than being provided access to counselling or talk therapies. We don't want to be doped up on medication or thrown into a ward, therefore we tend to keep our problems to ourselves.'  
As a young, British-Asian person myself, many things mentioned in our conversation regarding societal and workplace related pressures and stigma around mental health is relatable to people from my community. However, speaking with my colleague has highlighted for me that there are exclusive differences from culture to culture. The stigma and stresses carried by black men are burdens from ages of generational trauma, all of which must be unlearned in order to thrive. 
by Ruqqaiyah Adia
If you think you have a mental health issue self-refer to IRIE Mind or Talk Changes. Or see your GP for support from Tavistock & Portman.