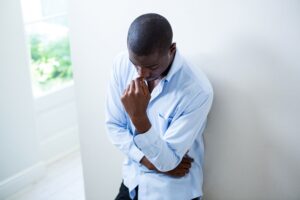 Happy, healthy black people in Hackney. Whatever it takes, we're here for it.
Pandemic life has well and truly taken its toll on us, mentally, physically and in ways that may be very personal to each of us individually. Now is the time to take stock and get on top of your unspoken fears from the past couple of years and your concerns for the future.
Chat Works Hackney works closely with Talk Changes, one of the services in the borough that works to support the mental health and well-being of local people. They provide a range of treatments under the talking therapies umbrella.
Rates of mental health can be different for black people due to racism and discrimination, social and economic inequalities; and the often mentioned mental health stigma. The ACH (African and Caribbean Heritage) community in Hackney are under-represented in self-referral rates and this lack of early treatment can cause any common mental health problem such as depression, anxiety, stress, panic attacks, obsessive thoughts, to escalate.
Talk Changes works to increase access to psychological therapies and also have ACH access initiatives in progress. The recent launch to include young adults in Hackney is part of their ongoing work. Click here to find out more and get the help you or someone you know needs.