TESTIMONIAL: Clive was at the point where he was ready to try anything to deal with the anxiety that was stalling his life. Read his story of recovery after working with IRIE Mind.
Well, where to start? I kept getting headaches and sleepless nights. My wife said I should speak to someone. Then she referred me to IRIE Mind.
A chap called me and told me about mindfulness. I thought that's not for me, but at the time I would have tried anything to move forward. From that moment on, IRIE Mind stayed with me. I was connected. There was a group online where we would all join in, turn on our cameras and group shared. We had one thing in common – anxiety. I can't recall all the skills, but I still know some of them. Being connected not only to people, but people going through the similar things as me, was big. The skill I remember most is, 'the People on the bus.' People all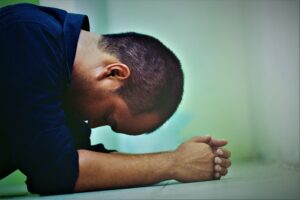 have their own problems, the passengers on the bus will bump into you, push you and be talking loudly, but you need to find your space. The passengers on the bus are our emotions, feelings, etc. The road is the situation and people around us. You need to work out how to manage it all. Mindfulness and talking therapy helped me to do that.
 As I was in talking therapy where I was able to share, I extended that outside of the group. I was able to talk with people who didn't really know what I was going through and they were open to me, because I was now less anxious. I was taking medication; they were prescribed tablets for headaches. The good thing about this group is that I stopped taking the tablets and used the meditation instead. I don't much like pharmaceuticals in my body. More importantly, I didn't need to. I was able to sit quietly. Take a minute or two out and sit gazing out the window in my daughter's room watching the trees move or the clouds move, or whatever it was; but I could almost hear my heartbeat. It was so calming, it set me up for the day. That carried on for maybe thirty-six hours and you know when the anxiety comes back, whether it be stress or kids running up and down, DWP, signing on, that sort of thing, I was able to step back into the mindfulness group therapy by myself. Take myself back to it. I had noted things down in my ring binder and my notebook as I was just sitting for ages and saw little bubble diagrams that I made at the time. It took me back to one of the therapy sessions so it's like on-going therapy. It works, it really works!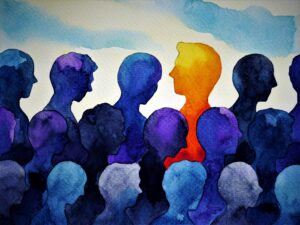 It needs to be rolled out and more people need to know about it. I know that plenty of men in particular will say, 'ah no its not for me.' For me personally, I will happily say it's good, so long as you're open minded and willing to try. And not be too negative. Give it a try is what I would say to anybody, before they go and get their prescription medication. Even if they've already got it, try this as an alternative because its soothing.
As a result, things started to open up. I was in a place where I realised that within a month I would start looking for work. And I did! It was the end of summer when other people saw it. Someone that lives in my mum's neighbourhood saw me interacting with the local kids. He said I'd be really good at this job (mentoring). And I am face to face with people that I don't know doing mentoring. When I first enquired I had no joy because I couldn't see the manager. But then I went online and they interviewed me and I got the job. All in a week! I applied for the job on the Monday, interviewed on the Thursday and by 4 o'clock that same day they gave me the job. I clearly impressed them. And everything has been on the up since then.
However, let me mention my befriender. When the group therapy was over my missus saw the difference. She thought I should have more, which I agreed. I made an enquiry, spoke to my therapist at IRIE Mind and he spoke to a befriender at IRIE Mind. That's what he's saved as on my phone, 'Befriender at IRIE Mind.' He rang me once a week and he just said, 'how are you?' And then I start talking. I know that's what I needed! It wasn't particular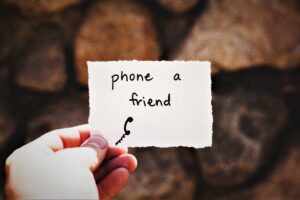 what I talked about, it was just talking and I wasn't even particularly under stress. I have even spoken to him on the bus going somewhere, but it was so helpful because I guess that's what I needed at the time. Now I'm fully employed, one month in, I've been elected the school parent governor. My first meeting is tonight for two-hours. I'm sure it'll be quite boring; I've got a pack of paper to read.
I don't think I'm at the end of my journey. I've also volunteered for a young people's centre. I was looking for work there, which I got turned down for, but I already said I would help them once the club is up and running. A place closer to home that I prefer in Stoke Newington, need not just staff, they need helpers and that also gets me out of the house of an evening, two-days a week for a couple of hours. That will complete me.
So, I'm looking forward to Christmas and the New Year. I barely think about the things that cause the anxiety. I see my brother every week, which didn't happen before. I can only say it only began when my missus referred me and I got the call from the therapist. I got a call very soon after, and they went through some stuff. Once I was registered it went from there. Then linking in my befriender, which completed it to this point now. I hope this will help others get to where they need to get to and at least begin the journey of where they need to get to. I feel indebted to the group and very grateful. I only hope this will help other people.
by Clive
Service user at IRIE Mind
If you think you have a mental health issue self-refer to IRIE Mind or Talk Changes. Or see your GP for support from Tavistock & Portman.